Here we are ladies and gents, the top 8 dancers of the season, where has the time gone?! We are down to the talent of this season FOR sure. This week all were bringing their "A" game in one way or another and I could have not have been happier. I'm going to give my happy moments of this week before getting to the rundown.
First of all.......
#1.....
JESSE TYLER FERGUSON
! I absolutely ADORE him and could have been happier that he was back as a guest judge for this season. He's so awe struck yet has some great comments to give to the dancers. And isn't he just adorable?!?!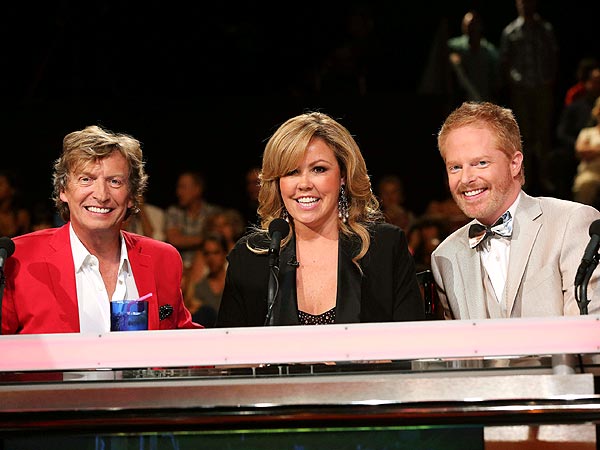 #2.....I just have to show you Chehon's solo dance. UGH! It brought tears to my eyes and I was just...WOW. He's definitely my favorite guy of the season for a number of reasons. He is so humble, has a beautiful family story, and puts his heart into his dancing every week. I love him. He put 1000% into this dance, as if it were a dance for his life. Plus at the end, there was his mom, who was seeing him dance full out live, for the first time. Come ON, tears. Chehon was crying, the judges were standing, his mom was beaming, and even Cat was moved to tears.
#3....my last top for the night was.....ALEX WONG and his amazing abs. From one of my favorite dancers last season, to a Newsies, to HELLO sexy sexy now. LOVE. HIM. Too bad I couldn't find a better picture. :(
Now onto the dances. All dancers did one dance partnered with an All Star and one solo. Most solo's, except for the phenomenal one done by Chehon, were good, just nothing I need to post. You can go look at those in your leisure.
The first dance was Witney and Twitch. AWESOME pairing. These two rocked the hip hop and Witney, no surprise her being my favorite anyway, was hitting the "waiting for the bus" move and every step along with it. I love Twitch and they both complimented each other well.
This next dance was a great pairing and with the flair of Sonya was wonderful yet creepy and haunting. Cole and Alison took on a horror story of a soulless man and woman who was desperate to love him. Cole again showed his expertise in playing a character, and working it to 100%. Alison, a fantastic dancer in her season, showed us she was worthy of being an All Star. The two played out this haunting tale and left the crowd feeling slightly scared and wowed.
Now as I've said week to week, not a fan of ballroom, HOWEVER, that being said....this next pairing pulled off a quickstep like nobody's business. I'm a big fan of the 20's/30's era and this dance had all the flair of Chicago mixed with Boardwalk Empire. Eliana played a wife whose husband, Ryan, came home from work and all she wanted was some attention. BOY, does she get it. Watch the careful little kick out of the chair and the FANTASTIC waterfall move near the end. Very cool and excellently danced.
Next we have Alex "Abs" Wong and Lauren. This dance was very sleek, sexy, and had fantastic moves which they both nailed to a 't'. However, I did agree with the judges that their chemistry was a bit lacking in it. At points I saw it, but then felt too much of a disconnect with their "disconnect". I still think some of the moves, especially Alex's pirouettes, were amazing.
The next dance was a very cool hip hop number performed by Will and Lauren. I love Lauren ever since her season. She always puts a lot into her numbers and this was no exception. This dance was focusing on Will and part of his mind that brings him back down to earth and pushes through the pain. This was new for Will with not only hip hop but that seriousness that was involved in the dance. It was almost very "Ghost" like, having seen the musical recently and I very much enjoyed it.
The next pairing was BRILLIANT, simply fantastic. We see Cyrus, now known as "Glitch" and one of my absolute favorites MELANIE! She is absolutely adorable and a multi-talented dancer for sure. Cyrus is just, sometimes I have no words, because I just always underestimate his talent. When I heard Jazz, I thought, this might not be so good. He really embraced his inner smooth jazziness and how could be not be so cute with Melanie. Loved it!
The next pairing of the night was my hottie boy Chehon and Anya. The two were connected so well, it was fantastic. The dance brought the judges and audience to their feet. It was so smooth, sensual, and sweet at the same time. I felt as though we were just watching a couple falling in love with each other and have an intimate moment. It was beautiful and the technique was simply flawless. Jesse made the Hot Jalepeno Train to trump Mary's Hot Tamale Train, whatever the heat, whatever the train, they were boarding it. ALLLLLL ABOARRRRRD!
The last pairing was Tiffany and Ade dancing a contemporary number to Celine's The Power of Love. I was expecting a lot since the song is an emotional masterpiece. These two did not disappoint. Their partnership was great and the trust between them shown through. The judges again were brought to their feet and sang praises to Tiffany for a job well done.
So now....the elimination. We were left with the bottom two girls: Lindsay and Witney (ugh again!!!) and bottom two boys: Will and Cole (really?!). With the judges having a very hard decision, they had to finally decide to eliminate Lindsay and Will. But never fear, they will both be dancing their hearts out on the tour!