Ladies and gentlemen, welcome to the 75th annual
Hunger Gam.....
oh not a post on the movie? Well it's finally official, teen idol Hannah Montana star,
Miley Cyrus
and
Hunger Games
star,
Liam Hemsworth
are engaged.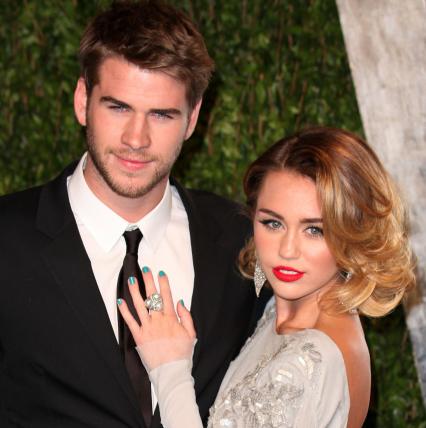 The couple managed to keep the engagement secret for just about a week, nothing is secret for long in Hollywood. The on again off again couple met while working on the
The Last Song.
There were many rumors flying around this year that there was an engagement, but now its OFFICIALLY official. Liam popped the question with a 3.5 carat diamond.....what a rock (and we're not just talking about his abs).
There's no wedding plans set for the couple, but Miley only being 19, we think they'll be waiting a bit. Here's a toast to the happy couple, oops no alcohol for Miley, and our best wishes!