On most websites, you can find a "Where Are They Now?" article or two about beloved sitcoms of the 90's, and once in a while, you may be able to find that on Sexy Trash. But nine times out of ten, you know what the ones that continued acting are doing, and you don't care about those that faded back into the "regular people." What I thought would be fun, and a nice change, is
"Where Were They?" Wednesdays,
where I pick a movie or television show, and focus on the career highlights of important cast members.
Since "A Day" is
LESS THAN A WEEK AWAY
on
Pretty Little Liars,
I decided to start our weekly post with that cast. You'll be surprised at where you've seen some of your favorite Rosewood residents before...
Lucy Hale (Aria)
Most recognized as Alexis Bledel's younger sister from
Sisterhood of the Traveling Pants 2,
Lucy Hale has also appeared in the short-lived CW drama
Privileged,
the Lifetime movie
Sorority Wars,
and the made-for-TV horror movie
Fear Island.
Ashley Benson (Hanna)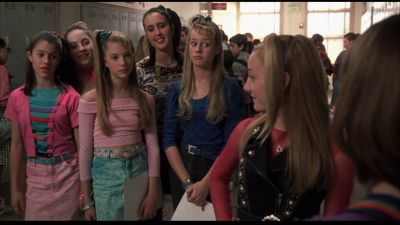 The "Liar" with the busiest resume, you may recognize Ashley as a "Six Chick" in
13 Going on 30,
Abby Deveraux in
Days of Our Lives,
Rebecca Romijn's
daughter Mia in
Eastwick,
or as one of the "
Fab Five"
in the Lifetime movie about the Texas Cheerleading Scandal.
Troian Bellisario (Spencer)
With
PLL
being Troian's first major role, you may need to set your sights to the background of
Mary-Kate and Ashley Olsen's
Billboard Dad
to find her.
Sasha Pieterse (Alison)
Although she's been a glorified extra in most things she's appeared in so far, Sasha
did
have significant roles in
The Adventures of Sharkboy and Lavagirl,
as well as the third season of
Heroes.
Before heading to Rosewood to sleep with his students, Ian had the plot-changing role of "Wealthy Prepster" in
Adventureland. (We're kidding about the "plot-changing" part...)
Tammin Sursok (Jenna)
She may kiss her step-brother on
Pretty Little Liars
, but before that, the only brother she was kissing was
Hannah Montana'
s.
Janel Parrish (Mona)
Janel's claim to fame pre-
Liars
is the live-action
Bratz
movie. I'm sure she's more proud to admit she's a liar than a brat.
Just a guess...
Torrey DeVitto (Melissa)
If you think Melissa is Ali's killer, or at least
A,
on
Pretty Little Liars,
it may be because you're used to her playing a borderline-killer psychopath in
One Tree Hill.
Nanny Carrie, anyone?
Bianca Lawson (Maya)
What hasn't Bianca played a 16-year-old in? Let's be real; she's been playing high school students since the days of silent films, and I don't mean The Artist. Okay, fine - maybe not that long, but definitely since 1993 when she starred in Saved By The Bell: The New Class. NINE YEARS LATER, she's still playing 16-year-old Maya on Pretty Little Liars. In between, she's had leading roles in everything from Buffy the Vampire Slayer (Kendra) to Save the Last Dance (Nikki).
Did you know these all along or are you sitting there saying "Oh yeahhhhhhhhhhhhhhhhh!"??
Stay tuned next week when we take a peek into where the cast of
The Hunger Games
have been before arriving in the arena!