While we're still bitter Donny wasn't picked as
the Black Carpet correspondant for the Wendy Williams Show,
we still stalked down every picture we could find from
The Hunger Games
movie premiere in California last night.
While the red carpet fashion wasn't as glamorous as some things we've seen during awards show season, there were some
really
fun dresses last night, as well as some overly-elegant ensembles. Let's get right to it, shall we?

Jennifer Lawrence (Katniss)
DONNY: Jennifer has a flawless body, and this dress does everything it can to showcase that. And I LOVE that it goes for the "girl on fire" look.
JES: Jennifer Lawrence looks STUNNING in this gown. The cuts in this dress are sexy but sophisticated. I also can't rave enough about the color! She pops off the black carpet - maybe she was channeling her inner Katniss, girl on fire.
AMANDA: It's all too close together in color for me - the tan skin, the awkwardly blonde hair, and the jarring metallic gold. Maybe if it were a different metallic color, or not just metallic I'd like it more. The hair's also a little too messy for me; this is the hunger games premiere, not the Teen Choice Awards.
Liam Hemsworth (Gale) and Joshua Hutcherson (Peeta)
DONNY: I'm enjoying Liam's dignified, cleaned-up look. I'm not used to seeing it. And Josh looks like he's getting ready to take over when Nick Jonas leaves How to Succeed in Business on Broadway, which I'd be okay with.
JES: Liam, you can't go wrong with a classic suit, you look stellar.
Kylie and Kendall Jenner
DONNY: I feel like they always look the same no matter what event they are headed to. One shows too much skin, the other wears animal print, both sport cute showers. Lather. Rinse. Repeat.
JES: My least favorite Kardashian/Jenners did not really hit the nail on the head. Their outfits aren't really doing much for me; however, I'm LOVING their choice in shoes.
AMANDA: I don't know why the Kardashian/Jenner things are there. Unless they were killed in the games, they should keep moving. The one in white is pretty, and I can't figure out what animal print the other one was going for.
Miley Cyrus
DONNY: I've seen Sarah Michelle Gellar wear this same outfit on Buffy the Vampire Slayer. In 1997.
JES: I wasn't a huge fan of Miley's ensable at first, I'm still not all the way loving it yet. It shows a little skin and the beading is phenomenal, but I'm not convinced channeling her inner belly dancer was the best idea. I am also in love with this hair style on her!
AMANDA: Miley, for God's sake, you are not a hippie. Put on a goddamn nice dress for once so your fans can stop having to defend you. This is just awful. The bad interpretation of 1920's hair and then what looks like a poorly made top and skirt from 1976 - if you're gonna do a decade, pick one and stick with it.
Leven Rambin (Glimmer)
DONNY: This movie was lucky enough to get a PG-13 rating with all the violence, now put those tracker jackers away before it gets bumped up to an R.
JES: Girl on fire?
AMANDA: I kind of wish she had pulled her hair back, like a low bun or something with some sweet blingy earrings, but meh, I'll take it.
Jacqueline Emerson (Foxface)
DONNY: I'm 99% sure this is the same dress Emily VanCamp wears in the promo pictures for Revenge, but in white, which seems perfect for a show about summer homes in the Hamptons, but to a movie premiere... I'm not convinced.
JES: I am LOVING this dress. Maybe it's because I'm partial to my fellow gingers but I think this dress has an amazing color and grecian feel. Simple accessories top it off perfectly.
AMANDA: Did she just make it to the premiere after a stroll on the beach? She needs heels on or something, and the length is making me uncomfortable.
Amandla Stenberg (Rue)
DONNY: If only Rue's skills in the arena were as good as her skills on the red carpet...
JES: What a cute dress on her! It's such an age-appropriate choice and she resembles The Little Mermaid a bit to me. She just looks flawless, she's going to be a fierce force to be reckoned with. I'd give her stylist a raise.
AMANDA: She looks amazing. A bit like Tinkerbell's black sister, but still amazing.
Kalia Prescott (District 3 Tribute)
DONNY: Honey, this is not the Oscars. Go home and try again.
JES: I hate it. Are you going to a winter ball? Unless they're on a miniskirt, lose the feathers, it's March.
AMANDA: i like it, but I'm mad there's fringe involved. If it were just fabric or maybe....lace? I'd be fine, but i love that scalloped edging around the knee.
Willow Shields (Primrose)
DONNY: My little sister got this exact same dress in a "Barbie Bag of Dress Up" when she was five. Made with the same $3 Walmart material. I just don't know who told her this was a good idea... I'd say Helen Keller, but even she'd feel the fabric and know to stay away from it.
JES: I want to say this is another age-appropriate choice but I can't say many positive things about this. The hem is at an awkward length (and I'm speaking from my short experience), the feathers are awkward and the shoes look like dye-ables from Payless. Also, is it see-through? She's a cute girl but she needs to reconsider her stylist.
AMANDA: Well....i'm glad the Fannings were nice enough to let their sister they lock in the attic out long enough to film the movie and walk the black carpet. I just wish they had given her more options than "wear whatever you can find up there"
Isabelle Fuhrman (Clove)
JES: This color works perfectly with her skin and it's a very pretty dress. However, I would like to see something pop somewhere - my choice would be the shoes. The current gold shoes don't really flow to me and she could have used something a little risk-ay in the color department.
AMANDA: Obsessed. Everything is perfect: hair, dress, jewels, shoes. I just wish she had a ring;
maybe she does and i'm not seeing it--but whatev, she's still number one.
Donald Sutherland (President Snow)
DONNY: Umm... Security? A hobo has made his way into the premiere... Can we take care of that?
JES: No comment & I love it.
AMANDA: Mmkay, President Snow, did you miss the memo where you didn't have to come dressed as your character? A shave would've been nice, and please, i see that sunshine - the scarf isn't nessecary.
Elizabeth Banks (Effie)
DONNY: Love the color, love the cut, love the pattern, love the hair. I love it all. I hope it shows up on Effie somewhere in the movie.
JES: I WANT THIS DRESS. Elizabeth Banks has pulled it off, well. The color is fantastic, the shoes are flawless and her hair compliments the one shoulder perfectly. The volume of both the dress an her hair are also seamless. Well done Banks, well done.
AMANDA: I want Jennifer Lawrence and Elizabeth Banks to switch dresses SO BADLY. Jen's is too old for her, and Liz's is too young. Though Liz's hair is spot on...
Stanley Tucci (Caesar Flickerman) and guest
DONNY: So glad Stanley Tucci brought his MySize Barbie as his +1. Next time,
JES: No matter how many people tell me that navy & black go well together, I'm not buying it. Brown & black I'm okay with, but black shoes with a navy suit ... it's just not working for me. Do I need to even comment on the 7ft salmon dress next to the navy suit? Those shoes .... ? Speechless. I'm loving neon colors lately but not on a red carpet with a semi-casual dress. Here's a clear fashion don't.
AMANDA: Tucci looks great, and i'm glad his lady friend's daughter let her borrow some shoes for the night.
Woody Harrelson (Haymitch) and guest
DONNY: You are watching a movie, yes. But at a premiere with a red carpet - you won't be munching on Cheeze-Its on your couch as you watch. So please don't dress like you will be.
JES: TOO. MANY. PRINTS. I can't even. No.
AMANDA: 1. I'm just ignoring this woman I'm being led to believe is your wife. As a woman, she should know better then to wear hawaiian print anywhere 2. So maybe it's partly her fault you thought it was okay, too. 3. Just throwing a suit jacket over a shirt does not a suit make.
Alexander Ludwig (Cato)
DONNY: LOVE that he found a way to dress up and dress down at the same time; this is the perfect outfit for a movie premiere.
JES: I'm loving this look, he looks super fly. The layered look on him is working! However, one small tweak would have given this outfit a perfect score - black shoes. I'm not really sure where the brown is coming in but the rest of his outfit is focused around black. Just sayin'.
Dayo Okeniyi (Thresh)
DONNY: I like the pinstripe, but I think the mockingjay pin is a little corny. I'll be wearing one to the premiere, but that's different for two reasons: 1. I'm not in the movie, and 2. I can do whatever I want.
JES: Suit = fly. Shoes = not so fly. Who designs men's shoes? Most of them are super fugly.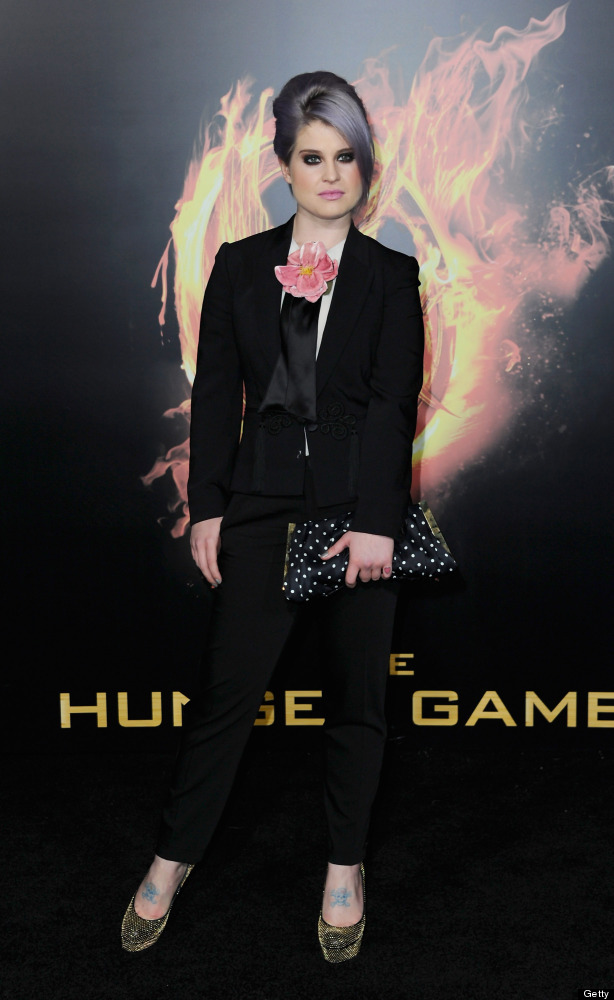 Kelly Osbourne
DONNY: I'm over Kelly Osbourne as a "style icon." Everything she wears looks forced and out of place.
JES: Kelly, give up the hair colors already. I'm not hating this outfit but I'm not loving it - I'm rather kind of "meh."
AMANDA: I'm glad kelly's hair isn't gray anymore. I actually am loving the hair and the idea of the tux. I wish the purse wasn't polka dot; that's distracting, but I'm diggin' the rest of it.
Shailene Woodley
JES: Her onscreen teenage mom character is so cute, she needs to take a few notes. Why is she always aging herself with frumpy frocks? First the high neck, long sleeved, long white dress now this floral dress made out of my grandma's curtains ... I'm scared to see what she'll wear next. She really could wear anything and yet she chooses ... this.
AMANDA: Mumu's aren't okay - tailored or otherwise.
Wes Bentley (Seneca Crane)
DONNY: Looking like he stepped out of Mad Men, this outfit is the best suit I've seen at the premiere.
JES: This is my favorite men's wear I've seen thus far. The cross between the pinstripe & flannel-ish pattern is so chic on him! The color is to die for and he's actually made men's footwear look like it's working. Bravo sir, bravo.