If your jaw is still on the floor from learning that
Jordin Sparks and Jason Derulo are dating,
pick it back up so you can have it drop again.
US Weekly
reports that
Lea Michele
and
Glee
co-star,
Cory Monteith,
have finally come public with their relationship.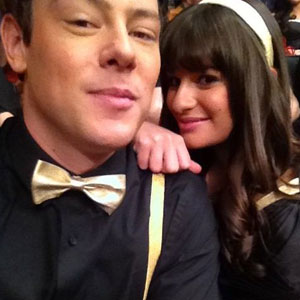 The two were spotted at Il Covo in L.A. on Valentine's Day, and a week and a half later, Cory took Lea to his hometown for a romantic weekend. A source told
US Weekly
that "...they stayed in a hotel, toured Grouse Mountain and went for sushi and sake."
I sat silently for a few minutes deciding how I feel about this relationship. I want to be shocked and ecstatic and writing "O.M.Gleeeee" over my Facebook statuses, but yet, for some reason - I don't really care. Do
not
get me wrong - if this is true, I am happy for them. For starters, they are an aesthetically pleasing couple. Second, people may say "don't mix business with pleasure," but when your business takes up 16+ hours of your day, you're forced to find pleasure there, and Lea and Cory have done so successfully. So, I
do
approve of a relationship between the two. They are nothing like their characters... well,
he's
not... and off-screen, the two
do
have a cute little friendship. Well, friendship-turned-relationship....
And no matter how they act together in real life,
nothing
can be as painful to watch as a "Finnchel" romance.
Yikes.