Everyone seems to have different opionions of William and Kate's wedding, and while we at Sexy Trash normally don't believe that people should have opinions other than ours, in this instance we're okay with it.
Why? Because in this intstance, we know for a fact that our opinion is the right one. Or at least the winning one (and not in a Charlie Sheen way).
Some people
were against all things "Royal Wedding;"
some people
were interested in it but didn't see the point in watching with the rest of the world at 5 am because they could be watching the same footage later; we, however, were counting down the days to see the color of Pippa's Maid of Honor dress, to see the rings, to see the Queen's dress, to see which celebs would (and wouldn't) be invited, to see a parade of fascinators (crazy hats), and most importantly, to see Kate's Dress. We were so excited for it, in fact, that while we could have woken up and watched on CBS from our living rooms, we decided to attend a TLC viewing party in Times Square. At 4 am. We mean business.
We didn't head over before making mimosas for the road and stopping at Dunkin Donuts for an official "Royal Wedding" doughnut, though. This is a wedding, after all. We have to keep things classy.
After arriving (and deciding from the sound checks that we
hate
Randy Fenoli, host of the Royal Wedding viewing party and "Say Yes to the Dress"), we mingled with new friends, snuggled in our new TLC snuggie, and watched on large screens as guests arrived.
Elton John, Victoria Beckham, Lady Gag...oh, wait. That's Fergie's daughter, Beatrice, in a hot ass mess of a hat. We understand standing out and grabbing attention (we do it often), but there's a line and this bitch crossed it.
The wedding itself? Wonderful.
Kate looked GORGEOUS, her sister Pippa looked BANGIN, and her brother looked GAY (which is really the most important...)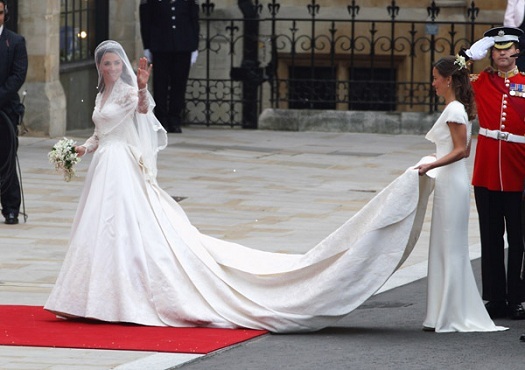 People are saying it was out of order for Pippa to wear white. We say "Fuck youuuuu" for a number of reasons:
1. Kate (or a wedding planner, whatev...) picked out Pippa's dress. It's not like this bitch rolled out of bed in the morning and said "Let me wear white and ruin this girl's big day." It was planned, it was known about in advance, Kate OK'ed it. Move on.
2. The image of Kate decked out in white with her long train being held by her sister (also decked out in white) is beautiful and is certainly the definition of a Kodak moment. We're thinking about framing it.
3. Pippa is one of those lovely ladies that would look great in anything she wears. Bloggers and reporters are saying that Pippa stole her sister's spotlight and possibly outshone Kate by looking so grand in her dress. No. This bitch could have been wearing a Pepto Bismol dress with poofy sleeves and Beatrice's hat and would still give Kate a run for her money.
....with that said, there was no run for the money to be given. Kate looked PHENOMENAL. It was modern meets classic, today's bride meets fairy tale princess. And we loved it.
Pippa Middleton, Prince Harry, James Middleton
Kate's brother, James, has a case of the gay face, and while we're saving ourselves for Prince Harry (
we want to be the second commoner to marry into this family...),
James Middleton could
definitely
get it. Possibly a threesome? Now that's being
royally screwed...
Oh. William looked nice, too. He's balding, he didn't smile much. Whatevs.... everyone knows weddings are for the brides, anyway.
(Especially if it's a bride that just married herself a man that's gonna make her a queen. Get. It. Gurlllll.)