Since the news of the
Annie reboot
, we've been suffering from Broadway fever. Even as we type this, we're belting out
Legally Blonde
and
Wicked
show-stoppers. We've been choreographing dances on the subway as our iPod shuffles from song to song, we've been creating songs for any and every occurrence, and we've been thinking of what scenarios would make good plots for musicals. With yesterday being a big night in television (
Real Housewives finale and the second episode of Jersey Shore IN ONE WEEK),
we got around to thinking... some TV shows would
really
translate perfectly as a great stage show.
(No, Spiderman is not one of them.)
And before we begin...
Glee
isn't one of them, either. We get it - it's practically a stage show already; it's a fun show with great performance numbers. So what's the problem? Without the TV cast playing their roles, the show would fall flat. And let's face it - while some
(Lea Michele, Matthew Morrison, Darren Criss, Jonathan Groff)
could easily reprise their roles on stage, others
(Cory Monteith, Dianna Agron)
wouldn't be too hot without the auto-tuning machine they've come to love so much. Plus, Glee plot lines are always hit or miss
(usually miss),
and musicals without great plots leave audiences wanting more and posting negative reviews on their blogs... Just ask
Spiderman
.
We've watched our girls conquer men, New York City and even other countries. So why not Broadway?
Much like our
Cruel Intentions musical
,
Gossip Girl
has enough sex, scandal, heartbreak, lies, frenemies, and backstabbing to fill two and a half hours on stage. And Leighton Meester can play Blair, obviously.
While
Buffy
already had a musical episode, we want a whole new plot and brand new songs. The plot will obviously focus on the Apocalypse, as does all things
Buffy,
and would ideally take place pre-Dawn, while Buffy was in high school. Because let's be serious - that's when our girl was at her best.
Three's Company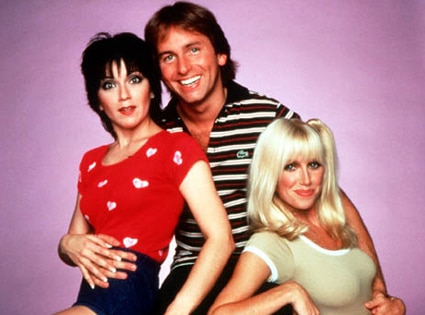 This show was always very much a farce, and we always thought it would translate well to the stage. So why not just add music? Plus, anything with the 3 leads in booty shorts makes anything great.
The Simple Life
We're aware this is a reality show, but think
Legally Blonde
meets
Working.
Two spoiled rich girls from LA get sent away to Arkansas with no credit cards or cell phones to live with a local family. In the process, they learn more about themselves and their friendship.. perhaps the Paris/Nicole feud would fit nicely in the middle?
That's hot.
Unlike other choices on our list where focusing on plot lines from specific points in the series, we think an original storyline would work best for a
Full House
musical. Perhaps a
real
send off to the series? Instead of Michelle losing her memory from falling off a GD horse...
we're still pissed.
We loved watching Betty for four years as she grew into herself and found herself moving up in the Meade offices. We miss her, we miss Marc and Amanda, we even miss Daniel. We'd be more than happy to buy a ticket for a
Betty
musical on opening night if it means getting to see all of our favorite characters again.
While Season 1 isn't even over yet, we figure the musical could focus on important plot lines from the first season, as well as the big reveal of Ali's killer. Be sure to stick around for the finale, "Gonna Find This Bitch" when the girls discover A's identity.
We've been planning this musical since the show premiered. The mystery of Mary Alice's death would be the main plot with dashes of our favorite housewives sprinkled in. We'd pay full ticket price just to see Gaby/John duets... only if he's shirtless.
Focusing only on plot lines from the first two seasons, songs could include "Cabs are hea'," "G.T.L," "Rock the Pouf." However, the real showstopper will obviously be Snooki's ballad, "Talkin' Bout A Guido."
I want a man with a tan
And a little bit of muscle,
And by 'little bit,' I mean a lot.
A guy who is fly
And will put up with my hustle,
And it won't hurt if he's hot.
I'm talkin' bout a guido,
Juice head or gorilla -
Come and party my way,
But take it easy, Killa'.
Cause I like it rough,
But don't punch me in the face
Cause I learned from my mistakes,
And now I carry mace.
I'm talkin bout a guidooooooooooooo.
(And yes, we wrote that ourselves... MTV, feel free to contact us to make this musical a reality.)